About Deirdre
My name is Deirdre and I have been teaching Yoga for over 10 years.
I'm a certified Yoga teacher, Clinical Somatic Educator, Somatic Exercise Coach, Retreat Facilitator, Embodied Yoga Trainer and co-teacher of Living Somatics Movement Teacher Training Course. I offer a range of classes, workshops, retreats and trainings for students of all levels.
Deirdre's Journey with Yoga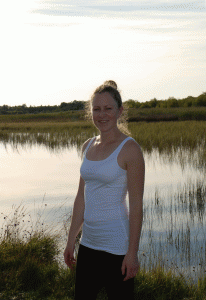 During my teenage years I discovered a book of exercises which I began to practice in my bedroom. It wasn't until many years later that I realised I had been practicing Yoga asana.
In 2006 I attended my first Yoga class in Alice Springs, Australia. That was the spark which lead me to delve deeper into the world of Yoga.
When I moved to Galway in 2007 I committed to a regular Yoga practice. Initially Yoga offered a way for me to deal with ongoing shoulder pain from a bicycle injury. After a short time I noticed other benefits. I felt less stressed out, I had more energy and I could think more clearly. Overall I felt healthier and more balanced. The more I practiced I noticed how calm, grounded and centered I was. Yoga helped me find internal spaciousness and freedom that I hadn't experienced before.
Since then my daily practice has been central to my health and wellbeing. Yoga has become a way of life. Both on and off the mat, Yoga has taught me to be more present and conscious. The increased level of self-awareness has allowed me to notice the subtle changes in my body, my thoughts and emotions and ultimately has taught me how to care for myself by noticing what is is I really need. Yoga is my anchor which brings me inner strength and stability. I feel very grateful to have Yoga as part of my life and as a teacher, lucky to be able to share this wonderful practice with others.
My Yoga Teacher Training and Further Studies
In 2009 I qualified as a teacher through a 200hr Yoga Alliance certified training with Green Lotus Yoga in Galway. This Hatha Vinyasa style training, influenced by the Krishnamacharya lineage, created a solid foundation for my teaching.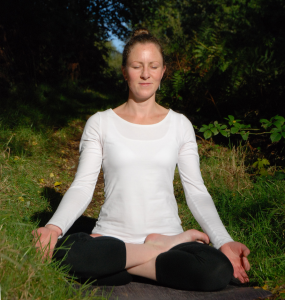 My curiosity led me to continue studying with teachers of various backgrounds including Hatha, Vinyasa, Flow, Scaravelli inspired Yoga, Sati and Restorative.
My hunger for travel and exploration brought me to India where over 10 years and 4 trips I have spend more than 6 months of my life, to further deepen my knowledge and practice of Yoga. I am grateful to have met Emil Wendel on my first trip who's passion for Yogic philosophy and pranayama has been a huge inspiration to me. I have studied with Bharath Shetty in Mysore completing over 370hr of advanced training in a Hatha Vinyasa style.
Closer to home, on the beautiful Clare Island in Mayo, Ciara Cullen and Christophe Mouze have been influential on my yoga journey, guiding me through their Sati approach to Yoga and Mindfulness.
I have had the opportunity to attend numerous workshops to learn from and train with distinguished international teachers including Amy Matthews(Embodied Asana and Experiential Anatomy), Max Strom (Breathing), Matthew Sweeney (Vinyasa Krama), Rossella Barachini (Scaravelli-inspired), Margaret Hardiman(Scaravelli-inspired), Paddy McGrath (Scaravelli-inspired), Debbie Mills (Therapeutic), David Meusham (Meditation) and Meghan Currie, Rohan Hennessy and Marianne Jacuzzi for their different approaches to Vinyasa.
Somatic Movement Education
Through my journey with Yoga I discovered Somatic Movement Education. It's a deeply transformative practice which can create freedom within the body and the mind. My introduction to Somatics came through Lisa Petersen in 2013. I continued to practice and study with her for the following two years culminating in my qualification as a Somatic Exercise Coach. I had pain in my right shoulder for 8 years until I discovered Somatics. It is such a gentle practice, initially I couldn't understand how it had such a profound impact. A desire for greater depth brought me to Brian Ingle director of Living Somatics: The Ingle Institute of Somatic Education. Between 2016 and 2017 I completed 500 hours of Clinical Training with Brian Ingle and Gayatri Schriefer and was delighted to qualify as a Clinical Somatic Educator. I work with clients clinically one to one to help them release pain, tension, trauma and stress. I often incorporate gentle Somatic movements in my Yoga classes and I teach regular Somatic workshops around Ireland. I will be co-teaching the Living Somatic Movement Teacher training Course in 2020 with my teacher Brian Ingle.
Somatic Movement Education opened a door that changed the course of my life path. I feel lucky that now I can support others to discover the beauty of Somatics and experience their own personal unfolding.
How I teach Yoga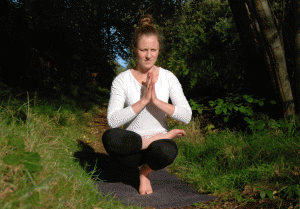 Through my teaching I integrate this variety of experience which draws from a broad array of traditional and contemporary practices.
Rooted in traditional Hatha Yoga, my approach is strongly influenced by Vanda Scaravelli, Somatic Movement and The Feldenkrais Method.
I invite students to explore and experience new ways of moving, breathing and being. My classes are designed to offer you a space where you can reconnect to yourself more fully. Enquiry is actively encouraged, empowering you to progress and adapt your practice to a level that meets you where you're at. In my classes you will discover flowing sequences as well as slow, deep explorations of asana postures, always with a focus on a quality of movement. We aim to balance strength with flexibility, flow with stillness and stability with lightness, exploring safely the edge between effort and ease.
In essence Yoga is a simple awareness-based practice, with the breath it can be transformed from just a physical practice into a form of mindfulness and a truly embodied experience. A sense of curiosity helps us to explore in a way that creates space in our bodies, using mindful movement to bring a sense vitality and freedom to body and mind.
The teaching and practices of Yoga are deeply healing and transformational and I am grateful for the opportunity to share the teachings that I have received.
_______________________________________________________________
Click to view Deirdre's Timetable, Yoga styles or What is Somatics?